RHEOCAD 500
RHEOMETER FOR MORTAR AND CONCRETE
It is well accepted that concretes having the same Slump test can show a large variation of viscosity. Complete characterization of complex fluids can be achieved with the new RheoCAD thanks to a mechanical computer-controlled device and calibration to obtain stress and strain rate with absolute units. The RheoCAD 500 offers the best performances of sensitivity with a wide shear rate range for measurement of a broad variety of fluid and slurries.
The RheoCAD500 measures torque versus speed with multiple programming possibilities to obtain the best rheograms.
A drive unit control system can be programmed for your particular application.
A high performance rheometer for mortar and concrete characterization
Overview - Principle
"Big brother" of RheoCAD420, the new rheometer RheoCAD500 is a rheometer developed specifically for building materials characterization, such as cement, mortar and fresh concrete. Its principle is based on the measurement of the torque developed in response to the controlled rotation of a measuring device in a bowl. It measures torque vs.speed with multiple programming possibilities to obtain the best rheograms
Principle
Easy programming
Linear Scale
Logarithmic scale
Manual, Quick or Expert protocols
Rheological models (Bingham, Herschel Buckley...)
Direct data transfer to Excel®
RheoCAD500 offers the largest dynamic range with 5 décades (5 order of magnitude) from 0.001 rpm to 250 rpm with 0.0001 N.m to 10Nm torque. It is now possible to accurately study thixotropy or concrete restructuration phenomena. With such sensitivity RheoCAD500 can be used for many others complex fluids where high torque is needed: Concentrated suspensions, slurries, heavy paste material (from food industry), ferrofluids or magneto fluids for example.
Specifications
Measuring device rotating speed: 0 - 250 rpm
Torquemeter: 0 - 10 N.m
Torquemeter sensitivity: 0.0001 N.m
Sample volume: 11 - 37 L
Temperature: 0 - 60°C
Dimensions: 600 x 700 x 1200 mm
Weight: 95 kg
A high sensitivity torque meter is used with a dynamic range 0.0001 à 10 N.m.
Custom-made bowls and impellers upon request.
A drive unit control system can be programmed for your particular application.
The anchor speed is regulated from 0.001 rpm to 250 rpm.
Complete control of the unit via lab computer using USB interface.
User-friendly menu driven software offers automation and data acquisition capabilities and absolute units according to Couette analogy method.
RheoCAD500 offers the best performances of sensitivity with a wide shear rate range for measurement of a broad variety of fluid and slurries
Applications
Rheological properties of cement, mortars and concrete
Rheology of fresh concrete
Rheology of Self Compacting Concrete
Restructuration, thixotropy study
Characterization of admixtures, fillers and formulation of concrete
Principle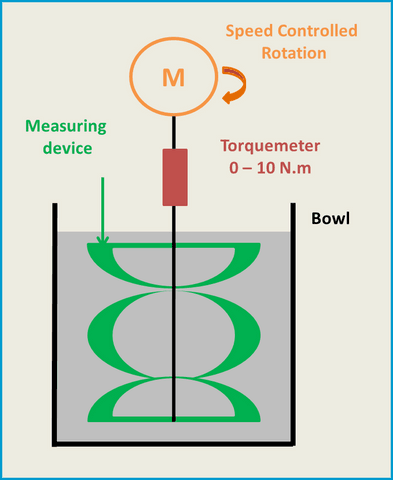 Rheology analysis with RHEOCAD500