Zetameter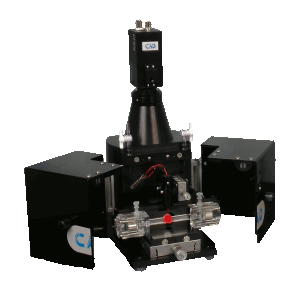 Particles having a high density or large diameter will settle on the bottom of the measuring chamber.
The ZetaCompact measures electrophoretic mobilities in a vertical plane. It uses high accuracy image analysis with angular path finding resolution.
Parameters Measured
· Electrophoretic Mobility in the vertical plane
· Zeta Potential
· pH
· Electrical Conductivity
· Temperature
· Cell Position
A modular tool designed to tackle all the problems encountered when measuring the electrophoretic mobility of particles from 10nm up to 50μm* and calculating the zeta potential of colloidal suspensions.